It's true that Japan is insane sometimes, but part of the fun of living in a country where you don't understand 90% of the language is... pretending you do. This little bit of fun shows itself in several situations. Notably at restaurants, where knowing the basic flow of things can give you the appearance of linguistic fluency.
For example, here is a rough translation of the way things work when I eat dinner. I've included the actual Japanese where I know it, to help undermine my point. 
(in a restaurant)
Waitress:
AGHKASDJGAD (いらいしゃいませ!!) SHGAGAOIUAGS? (なんべさま?)
Me:
Table for two! (二人です。)
Waitress:
GADOIPFBANODSURTA? (?)
Me:
Non Smoking, thank you. (ええらない)
Waitress:
665SDK3LJFASDJ... (どぞ! こちらえ!)
;Me:
Sure! We'll follow you. Sounds great! (はい!)
... (later)...
Me:
What do you recommend?  (あなたのおすすめですか?)
Waitress:
ASDOAGKH! WKJDAUA, SIUWTEIHSKK.... AND... AIDSFUGAKSJDGFI!
Me:
Great! We'll take the second one and two beers! (そうですか? 二番、とベルを二つお願いします)
Waitress:
QWEUIOASDJFASD? 
Me:
Umm... for now, we'll have two of these, and this. (とりあいず。。。これを二つと。。。これ)
Waitress:
ADFLJGADSG! (はい!)
A year of social immersion is enough to learn how to function in common situations (lost on the train, renting a karaoke box, saying that you like Japan, etc) but still not enough to be able to have anywhere near a real conversation. So, before we move on to more shenanigans, I just want to give a shout out to everyone who has learned/is learning another language. Be you 日本人で英語をべんきよします, foreigners learning Japanese or anyone else learning anything else... it's bloody hard. Keep up the good work!
Ok! Now on to the better part of not understanding the language... the part that makes it fun. INVENTING YOUR OWN TRANSLATIONS!
Alligator:
Let's meat for dinner!
Lion:
No way! I'm not meating you tonight. I have to meat the lioness in two hours!
"No Interracial Cossack Dancing On The Roller Coaster"
Edit: bagged a better pic!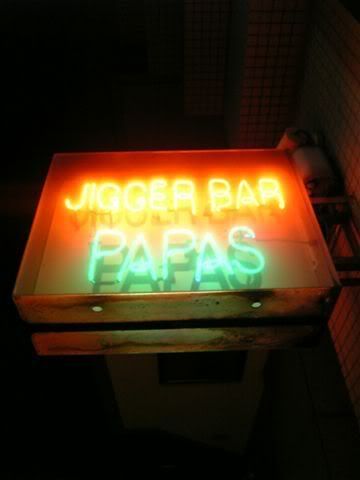 "We Listen To Too Much Hip Hop."