When someone mentions Tokyo, one of the things that comes to mind is the public transportation system. Tokyo's trains are a miraculous tangle of steel spaghetti that carries millions of people around the city with to-the-minute precision. They are operated by about ten different groups, including the metropolitan government, the national rail company, and a host of department store companies. (The department store operators are actually quite brilliant to have built train lines... all of the major transfer points are situated beneath branches of their stores, so they use the train lines to bring customers in.) Overall, there are so many train lines that you can usually get from point A to point B three or four different ways.
Maybe some maps would help.
Here's a map of the JR lines in the greater Tokyo area.
The most crowded train line in the world is the Yamanote Line. It's the green circle in the middle of the map.
Oh, and there are also these private lines that run in the same area.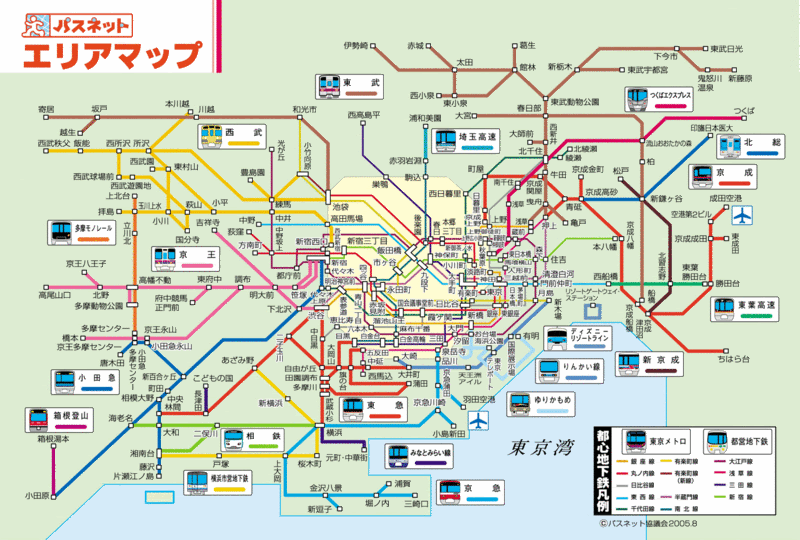 Oh yeah...there's a third map for the subway trains. The gray line here on the subway map is the Yamanote line (the green one above)
Keep in mind that these maps
cover much of the same area
. Separate maps are used because they would have to resort to using Queer Eye For The Straight Guy colours to keep all of the lines...straight. ("Take the tope line to the teal line, then transfer to the mauve one!") There are also a whole bunch of private lines that cover the outlying area that aren't represented on this map.
Apart from being amazingly well integrated into the city, Tokyo's trains are also known for being...crowded.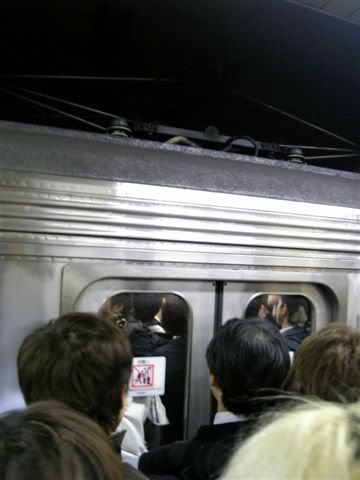 This isn't always the case, and generally you can physically fit onto any given train. There are a few exceptions though. Trains can be crowded during rush hour, obviously, but the worst amount of overcrowding often happens on "Last Train". Since so many trains run each day (The Yamanote Line that circles the city runs every
two
minutes during peak hours, and every five minutes otherwise) they shut down the network between about 1 am and 5 am for maintenance. Unfortunately, this can mean that lots of people want to take the train...which leads to this:
These shots are from the Denentoshi Line, which runs west from Shibuya.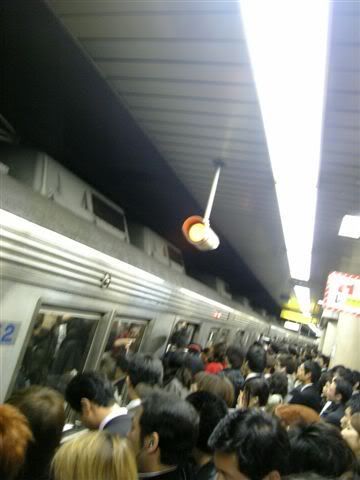 One thing I love about this situation is that these shots are from the SECOND to last train, which has has already been jammed to capacity. The sad looking people on the platform were physically unable to squeeze themselves onto the train.
This is what they look like as the train pulls away.
On the inside of the last train, things can look a little like this.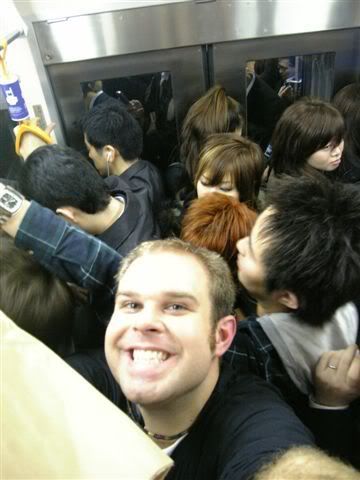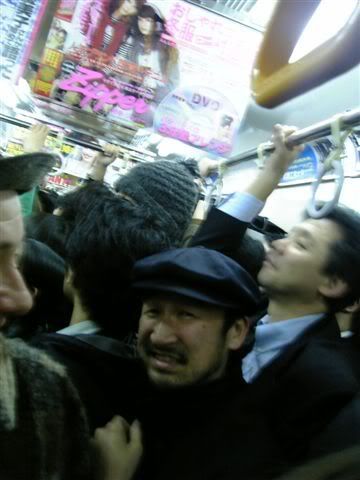 How on earth do you deal with this sort of situation and not go crazy or feel claustrophobic?
Well... on your birthday, the solution is actually quite easy.
Chug scotch from a bottle, and try really hard to get the commuters to join you.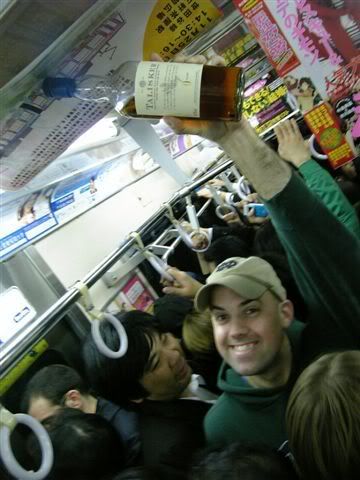 They won't, but you'll at least free up some space for your drinking arm...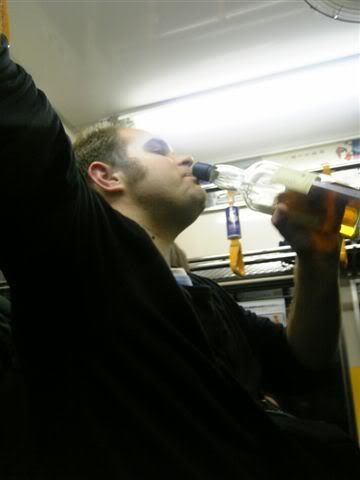 Despite the pun in the title of today's post, I actually love the Tokyo transit system. The train near my little pocket of Tokyo's "Suburbia" runs every twelve minutes at worst, and every five minutes in the morning. Riding trains might not offer the door-to-door, on demand experience of cars, but what they have to offer is much better: peace of mind. Riding trains is convenient, social, easy and sometimes, drunken. You never worry about so many of the things that make car ownership a pain in the you-know-where: parking, sobriety, insurance, traffic, gas prices, accidents, road rage.... the list goes on and on.
Take a moment and think about the pictures of the train ride above. Despite the fact that I had a rather intimate experience with about seven strangers simultaneously, I still didn't get off the train angry, or stressed, or tired. Now think about what it would be like twenty times the usual number of cars clogged your evening commute. I would guess that somewhere near a thousand people (more?) jammed themselves onto two trains while I watched, we still reached our destination in exactly 21 minutes. Now think of adding an extra thousand cars to your local highway over a ten minute span. Think you'd still get home in 21 minutes?
Furthermore, I firmly believe that the train network here allows people to be more social. Would you drive alone in a car for an hour just to meet your friend for dinner and a few drinks? Maybe, but how often? An hour on a train listening to music or reading a book leaves you energized, where an hour in a car leaves you drained.
I've always been at least a moderate advocate of public transit. After more than a year of riding the rails here, you can officially check off "rabid screaming teenage fan club" for my level level of excitement. I still haven't asked any train conductors to sign my ass, but you never know.
Oh, and for the record, I don't mind crowds. They mind me.