I think Japan has radically altered my definition of "insanity". As I wandered the streets of Seoul a few weeks ago, I found myself thinking things like:
"Wow, there must be a thousand people on this street... back in Canada, that would be crazy"
But, then again, for the past year, I have been living in the land of this guy: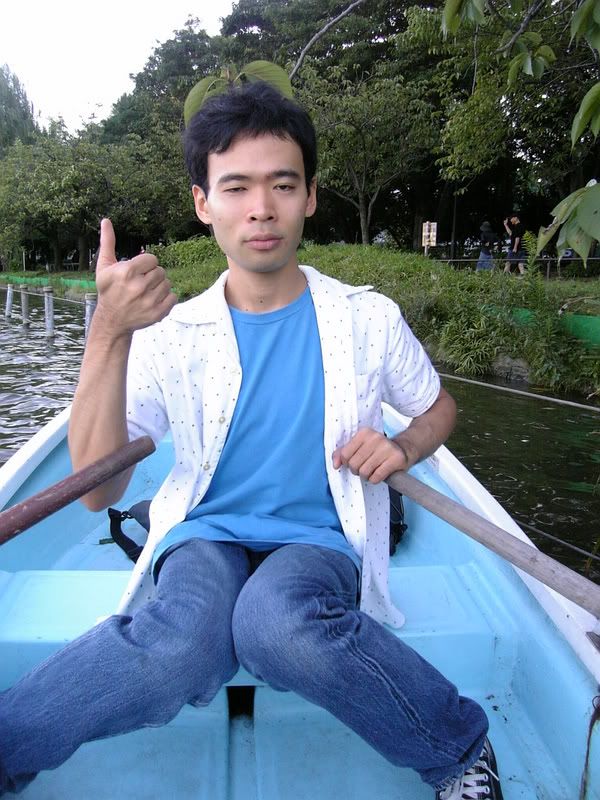 (more on him soon. he's a damn genius)
So, how on earth can I compare these two glorious cities. There are so many simmilarities. For example, eating food based on tentacles is highly appropriate, AND highly delicious!
Korea:
Japan: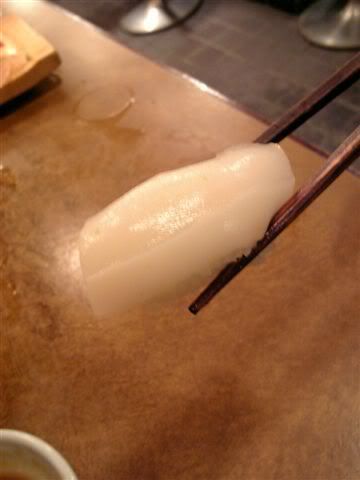 In Japan, they also come in bite size portions!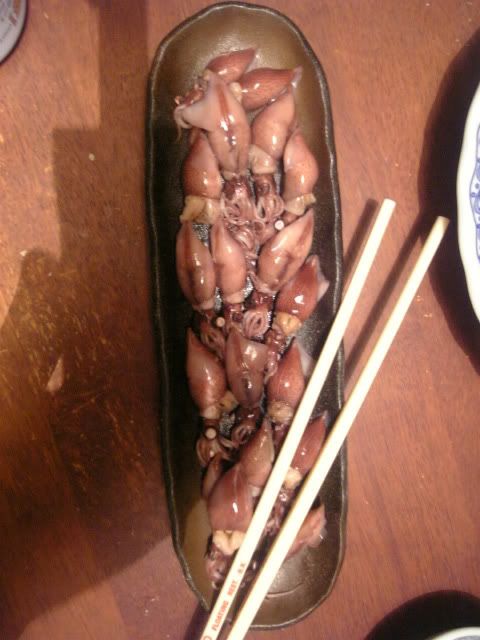 I threw out the "Snake Ice Cream" from Japan a little while ago, and some time ago there was....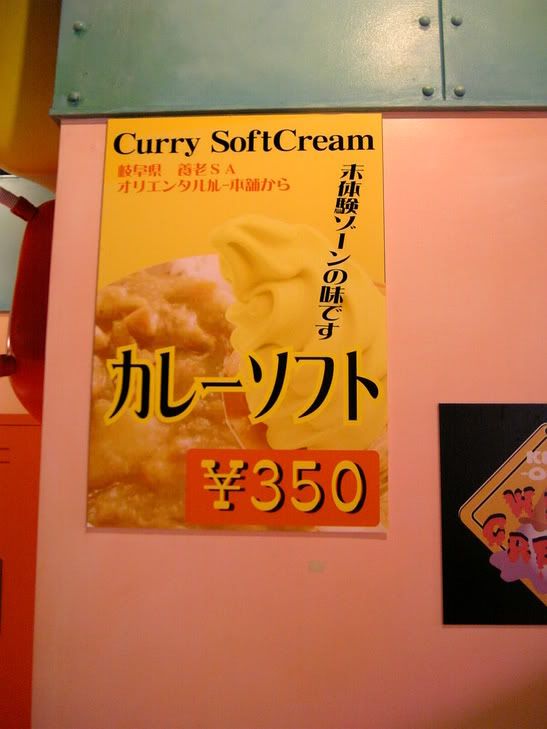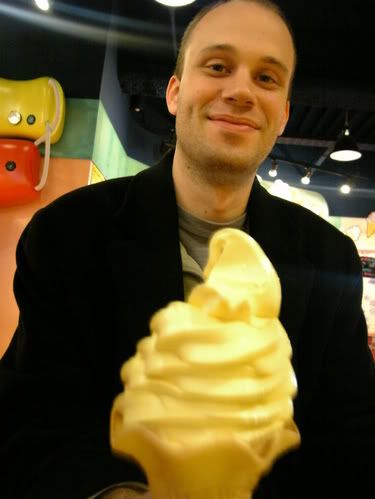 But what of the Koreans?
Welll....
They would have won hands down if not for that pesky comma.
Ah... but a side by side comparison? I wouldn't dare...
Oh, come on. You read the post title. You know where this is going. Don't worry though... we're only going to compare important shit.
Like Best use of "Presso" in a grammatically disturbing ad campaign!
From Korea we have...
And Japan brings the ever faithful...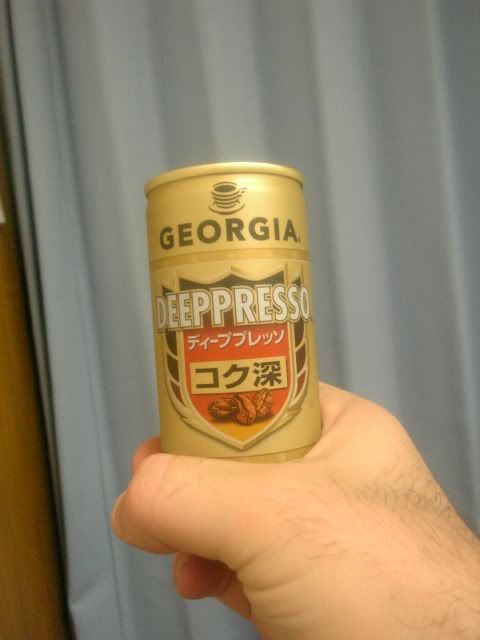 Hmmm.... I'm going to leave this up to a vote.
I vote... Japan!
Both Cities have their little tidbits of insanity. For example, both have selected extremely crazy places to house Starbucks coffee shops.
The Koreans elected for a shrine.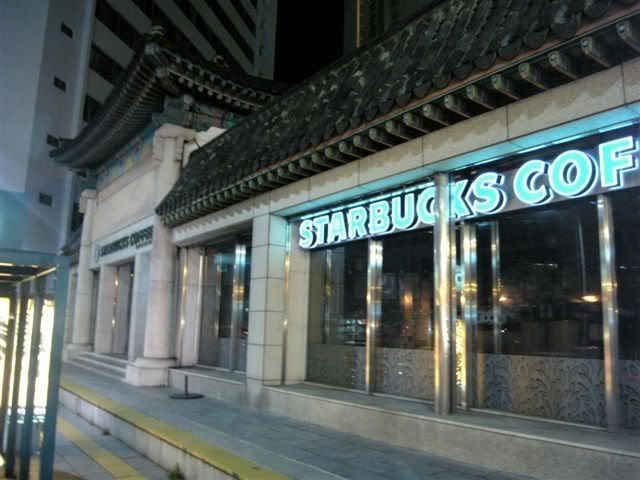 While the Japanese just decided to add 23890328273 people.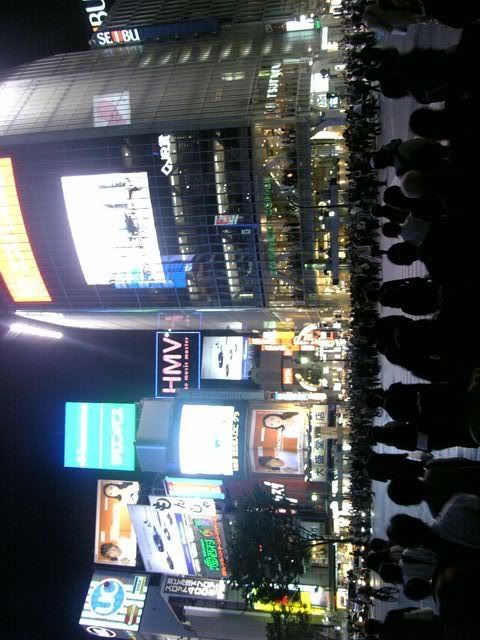 Seriously. I counted.
Ok... Next category:
Drag Queens!
Points will be awarded in three categories: Realism, Comic Value and Fashion Selection. /10 for each category, with a further 5 possible points for "Gender Bendery"
Entry #1: Korea "The Fashion Salesman"
Realism: 2/10. I guess if we made him blurry enough, the fact that he has pronounced breast-like cups would make him vaguely identifiable as a woman.
Comic Value: 5/10. Good sense of humour, but he was letting a "business" get in the way of being fabulous. Lack of focus and all that.
Fashion Selection: 8/10. Ok, his clothes are shit, but he technically has the largest fashion "selection" of any of our three contenders. Too bad none of it fit me.
Gender Bendery: 2/5. ho-hum. he's trying to get attention for women's clothes by wearing them, but he did let me fondle his kajungas.
Total: 17/45
Our next contender hails from Japan. Pulling of a mini skirt far more reasonably than 40% of the female population of North America, I have to hand it to
"Mi-Kun"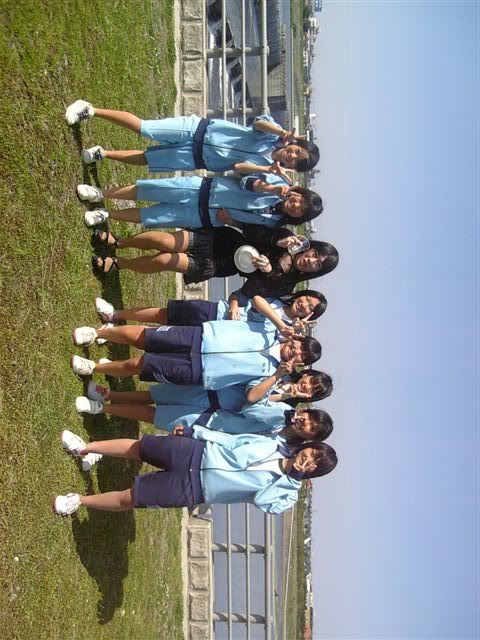 Realism: 9/10. No question here. Dude squeezes himself into a pair of platforms and a mini that would do RuPaul proud. You go "girl".
Comic Value: 7/10. Good sense of humour, and more than willing to learn new words, like "Fabulous". Bonus points for being a salaryman on weekdays.
Fashion Selection: 8/10. Great choices. A girdle, a reasonable wig, and a lot of confidence on a windy day! Good work!
Gender Bendery: 3/5. Good work on the outer identity. Loses points for being straight, but a very mini-wearing straight. Bravo!
27/45 - Good effort!
Our final competitor comes from deep in the heart of Shinjuku.
The MC at the local Gay Cabaret!!!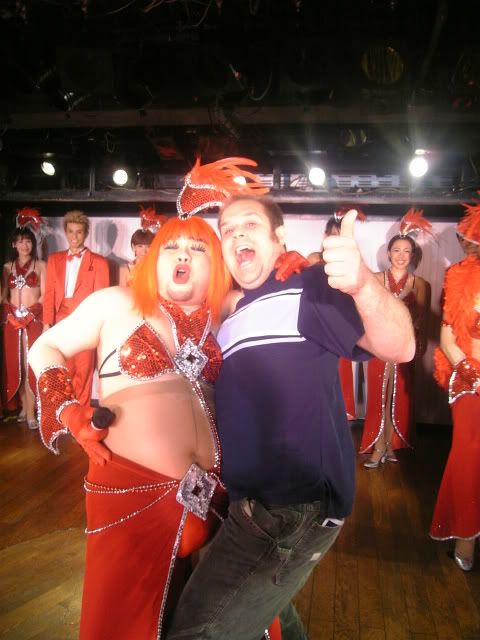 Realism: 1/10. Dude. You've got a goatee, chest hair and a little red dress.
Comic Value: 10/10. Dude. You've got a goatee, chest hair and a little red dress.
Of course, you also point to foreginers and scream "big belly! big belly!" then proceed to dance with them, pretend that your 42" foam cock is aroused by them and then write "for the first time, for the only time, our meeting is very special" on a polaroid. That's comedy if I've ever seen it.
Fashion Selection: 7/10. I have to give points for effort, but pizazz often loses out to a more refined selection. Next time shave the belly hair...
Gender Bendery: 7/5. Once again...Dude. You've got a goatee, chest hair and a little red dress.
Total: 25/45. Great work! But not enough to catch the amazing.... MIKUN!
We're going to have to revisit this topic again soon. It's a really tough call!