Apparently, it's time for a sketch-off. A battle of wits, weirdness and well intentioned but less-than-successful language is about to commence. This is a battle the likes of which the world has only seen played out 10858739 times in the world of internet blogging. Well, lady, gentleman and the rest of you crazy kids... I'm about to be number 10858740.
Although I'd been planning to compare and contrast the charms and insanity of Tokyo with those of Seoul, it was a friend of mine who threw the gauntlet and started this battle - without even realizing it, in fact.

Fundamental conflict:
Tokyo and Seoul are both very, very crazy. But...which is craz
ier
???
For example, Tokyo has long dominated the field of crazyness with its neon addiction, cultish devotion to customer service, and "Let's Noun-ing!". They threw out the ringer of serving whale, horse and still breathing fish in the same meal! What city could field culinary insanity to that degree?
Seoul could and did, coming from nowhere with "Hey! How would you like to eat live octopus!?! It'll stick to your tongue and try not to die in your mouth!"
Well, shit.
Don't count Tokyo down yet. Clearly, short of food that tries to argue you out of eating it(coming, I'm sure), there isn't much do to to beat the octopus dish in the freshness department. So... a new tactic.
Changing the Genus.
Genius!
And so, we present the Tokyo-culinary-insanity-answer to live octopus...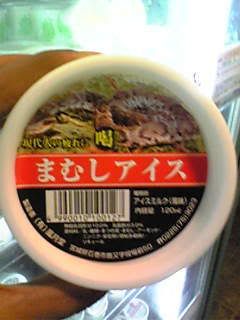 Snake Ice Cream!
Trust me, this makes me extra bitter that I'm lactose intolerant. When they get around to making a snake based sherbert, I'll be first in line.
/Special thanks to Vash for sending this my way.