Australia is indeed a beautiful place, and I had quite the time enjoying some of those sights....
Near Brisbane, there is a large sub-tropical rainforest in which a lodge called "O'Riley's" has managed to put together a quite enjoyable form of "Sustainable Profiteering". Or, to put a more positive spin on it, provided a relatively nice place for a walk in the woods.
They've built boardwalks all through the forest.
And through the treetops.
Seriously, they're F'ing high. Like 20 metres off the ground.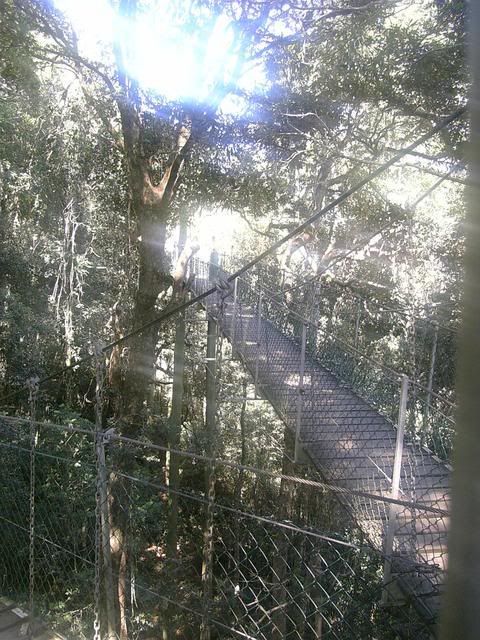 The view was incredible.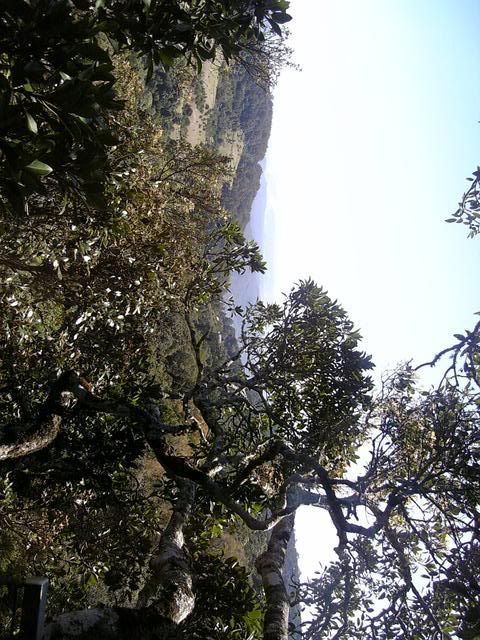 Really incredible.
Of course, these pictures were taken from lookout post twenty metres ABOVE the twenty metre high boardwalk.... which makes for a somewhat scary climb.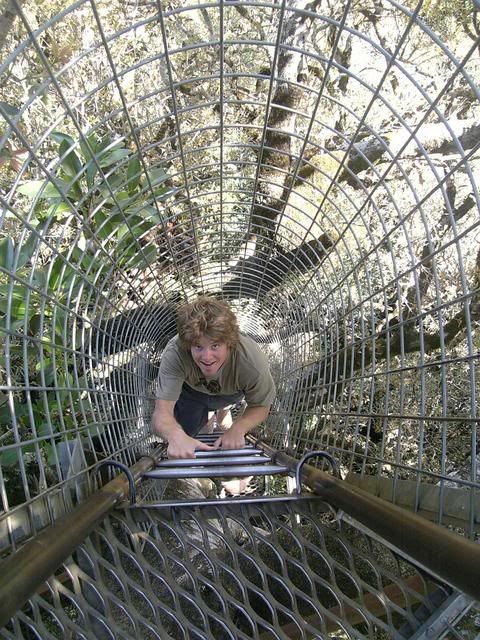 We also enjoyed some ground-level hiking trails.
There were some interesting trees along the route. Most interesting of these (cause I know you're all moaning with anticipation) were the strangler figs.
Here, Katie tempts fate.
Strangler figs are very interesting. They never grow from the ground, but are rather deposited by birds in the tops of full grown "host" or "bitch" trees. The roots grow downward and connect to the ground. After this, the strangler figs grow stronger and stronger, eventually squeezing the host tree to death. This phase is called "step aside, bitch!" in the scientific and gangsta hip hop communities.
Kate poses with a larger, post-"step aside, bitch!"-phase tree.
After the host/bitch tree dies, the inside of the fig is left hollow.
The coolest thing about these hollow strangler figs, is that for some unknown reason, there is an amazing effect if you stick your head in. You receive the
Amazing Brilliant-Pearly-Gayification Makeover Effect (tm),
. Be sure to note the "dazzling white hair frosting", "glittering glamour earring" and "shiny emo stars" effects. It was faaabulous.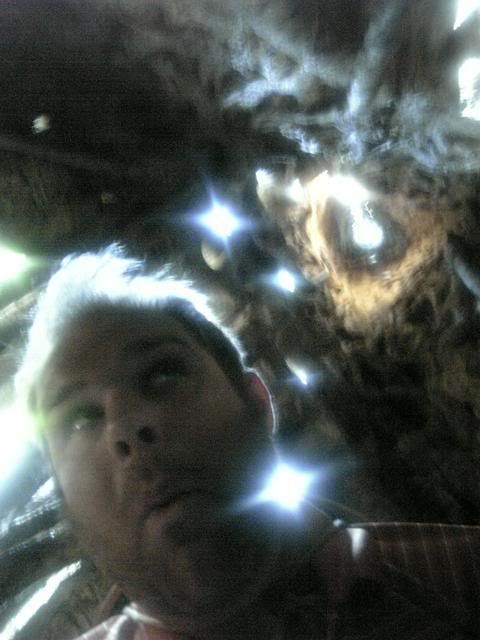 Some of these figs grow to massive proportions.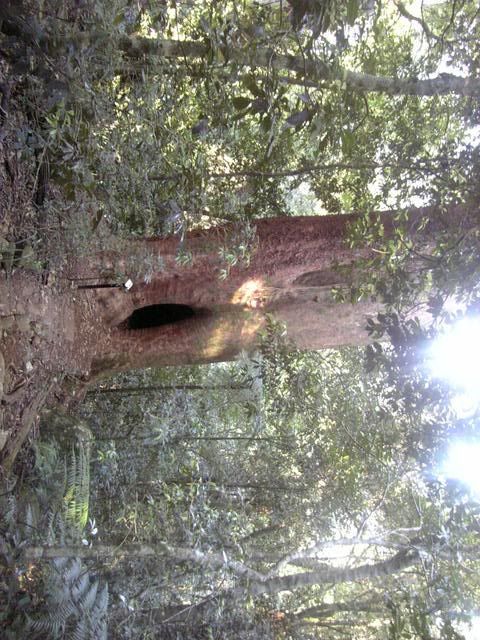 How big?
Big enough to let Kurt grip the biggest woody of his life.
They also had lots of wildlife, which existed in its pure, natural condition...avoiding all larger mammals as possible predators.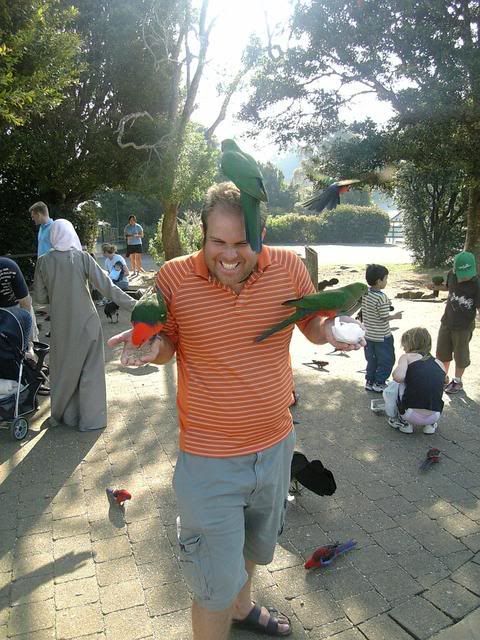 mmmm... enviro-lunch!
One of the best parts of the trip to the rainforest was that it was located at the top of one of the nicest roads I've ever seen sliced out of a mountain side.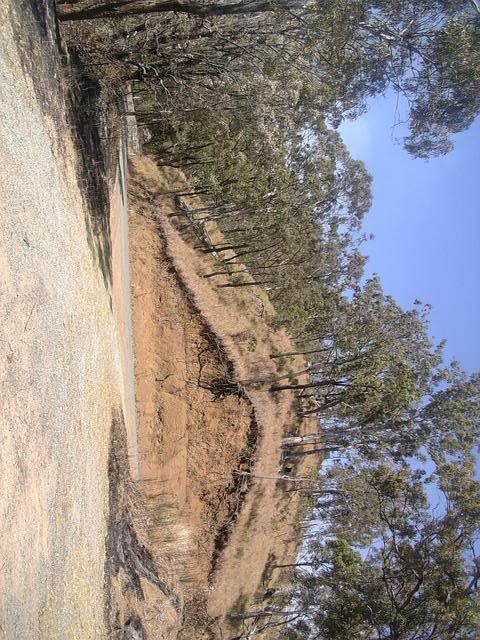 It twists and turns...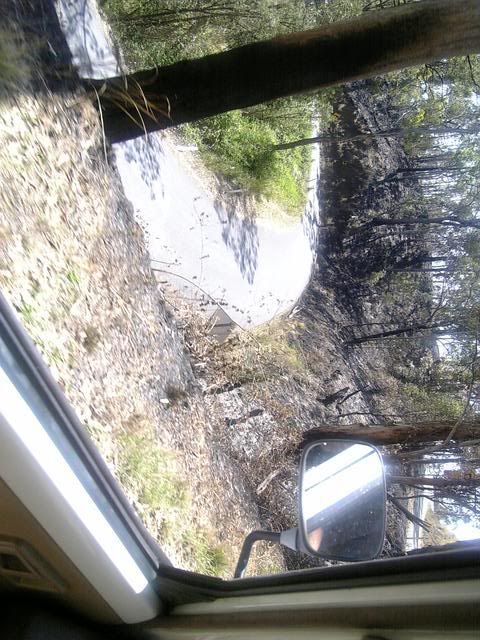 has some really nice lookout spots...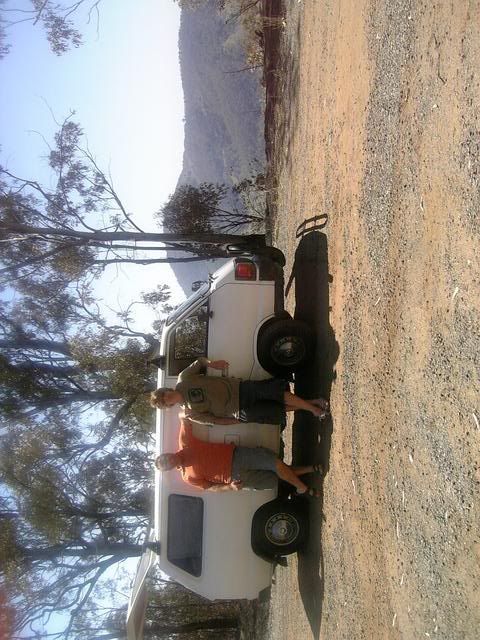 And lots of really interesting scenery.
Oh.....what else was on the road...? Oh yeah. A forest fire.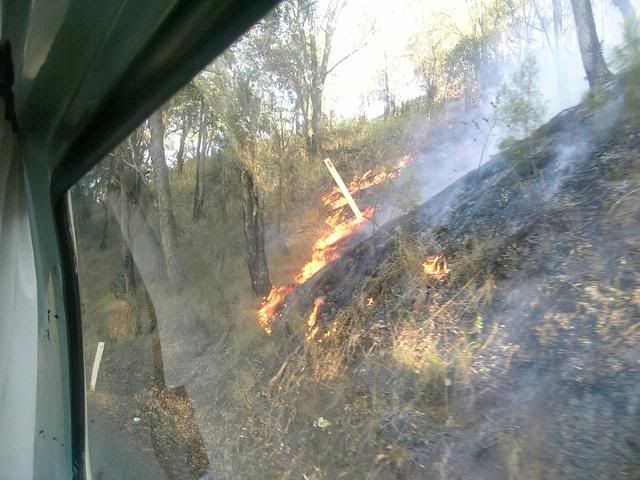 Stay tuned for thilling, pixelated cell phone videos of this flaming good time.