i'd like to announce that my recent allusons to large, gay, feather-boa clad, japanese men are based alltogether too much in reality.
sherman, lets set the way back machine for "last weekend" and see what we find....
it all started about twenty nine years ago, when a certain man in a certain part of america was born. the stars aligned themselves with the full majesty that is manifest destiny, the red martian god of war was sport humped by jupiter in the house of io, and the sun rose over the land where it is known for doing such things.
after cleaning themselves up, these metaphoric misinterpretations of large rocks gripped in sol's gravity all agreed that sean should, indeed, come to japan.
the above bullshit hyperpole was brought to you by the letter "t", for "text messaging" the character "新" for shinjuku (新宿), where i was just ariving when i finished this part, and the number "23", for how many minutes that took me to text all this to myself.
-----
Yes folks, from now on, those of you who are interested in the "creative process" or as I call it, "vomiting shenanigans", you can tell which posts are composed on my cell phone (by scrolling through the letters one at a time on a 12 button pad) by my dismissal of capital letters. I make use of proper punctuation, including apostrophies, dashes and even quotation marks, so I don't feel like I am setting a bad example for the children by opting for "all lower case" rather than "THIS IS IMPORTANT" case.
No disrespect meant to you capslock users - it's a far worse offense on the keyboard- but I have been fighting an intense internal battle against the evil forces of
IMHO U IZ FUN-E. I LAFFD GUD @ ur jok, u kraZee DUD
for a long time.
Anyway,
Sean is an lovely chap, and he happens to have a very lovely girlfriend named Yoshimi. For some unknown reason, Yoshimi apparently feels that it is a good idea to book your boyfriend's birthday at a gay bar.
Now, this is no ordinary gay bar, but in fact, a gloriously awesome
performing
gay bar. Yes, ladies and gentlemen, Tokyo has a queer cabaret. I know that *I'm* surprised that I ended up there.
I also swore to myself that I would NOT be the centre of attention, for once in my miserable life. This resolution, of course, failed almost as spectacularly as it did in Amsterdam when I went to a banana show.
I should point out to those of you who have any sort of inkling to experience a crazy drag show that drinking a boatload of booze will probably enhance your enjoyment of the experience. The line between "moderately funny" (most people know that feeling as "discomfort" or "unease") and "brilliantly hilarious" is about three whiskies wide. I hate to admit it, but cavorting, jiggling pleather-clad man-flesh calls for a drink no matter what language you are enjoying it in.
Fortunately, for our 6000 yen, our hosts were happy to take care of the "idiotic amounts of alcohol" factor, as well as dinner.
Now, these are smart people, and they came up with a brilliant time and labour saving concept for a drinking establishment: forget about using wait staff and bartenders whenever possible.
You might ask yourself...
But how will people get their drinks?
Simple: from the bottles of whiskey and vodka that are placed on every table. That's right, each table in the establishment is covered with unopened 26 pounders (that would be 26 oz, or 750 mL), beer, soft drinks, mix and a few buckets of ice. You just pour yourself whatever you feel like, in whatever quanitity you feel like, and voila! Instant repression of 70% of your inhibitions.
The show itself was quite funny, and fairly well put together. The star of the show was a slightly (almost?) past-her-prime european dancer woman, who might for all I know have been a dude at one point (this seems likely). If Pamela or whatever her name was happens to be short one X chromosome, she had a bloody good surgeon because we couldn't tell the difference. Anyway, that wom-man was supported by a bunch of japanese dancers. The J-folk came in the "male" flavour, the "female flavour" and the "some-of-both" flavour.
The show opened with a very large Japanese man in a dress (with a goatee) coming out on stage to make jokes. Since all of the jokes were in Japanese, they were lost on me until I became one. During the shuffling, this large fellow took notice of me. He suddenly pointed at me, said something in Japanese, then he slapped his belly and pointed at me. Following this, everyone in the theatre laughed quite hard. One of the other people in the group explained that he'd said "Woah! Look at that foreigner! I've never lost a big belly competition before!!"
For the rest of the next few hours, he would consistantly point me out with helpful motions like rubbing his belly then pointing to me, or holding the microphone in a "flacid" position, then point to me and ... uh... remedy the situation. Things took a turn for the worse when he brought out the three foot long foam penis and used it to point me out in the crowd.
Other highlights of the show included:
- a topless dance solo by a former man with the most widely spaced boob job I've ever seen.
- a three-man pleather short-short thrust-fest that included the wearing of Aviators and leather cop/S&M hats.
- a long theatric dance that I can only describe as "What If World War II Was Gay".
For the WIWWIIWG skit, the show featured people fake-humping in both homosexual and heterosexual encounters, some woman chasing two sailors around to stop them from making out, and a lot of saluting and wearing army outfits. At the end of the show, they ran out with a banner that I didn't understand, then pulled off someone's pants.
It was art.
Things went further downhill when they asked us if we wanted to stay for another free show. You see, they do three shows per day, and dancing around in a feather boa or neon spandex and stilettoes is no fun if there are only three sketchy dudes in the back smoking. We were loud and drunken, so we stayed.
This time, my large friend wanted me to be slightly more involved in the show. He made this clear by sport humping my leg and panting heavily for about fifteen seconds during his opening monologue (yes... we were in the front row). A little while later, he dragged me on stage to bump chests and sat on my lap. He also gave me a token of his affection. I forget the exact point where he pressed his fan on me, but I'm pretty sure I was being groped for the amusement of at least 20 people when it happened.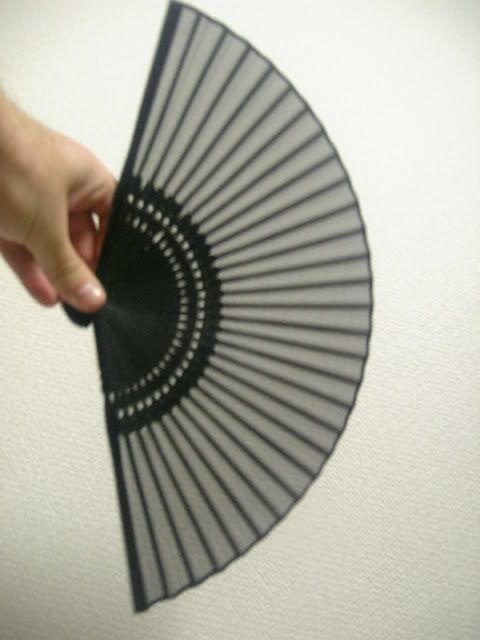 Anyway, after the show, there was an opportunity to take a polaroid picture with a few members of the cast. Sean jumped up there and got one with the whole cast.
Amazingly, there were two actual girls in the show. We know this because they introduced most of the "female-like" people as "Mister XXX"!!!! after the show. Two of the girls were introduced as "Miss XXXX", so we assumed that they were the real girls. That helped some of the boys feel better about their place on the sexuality spectrum while they peppered one of the girls with questions about her glamorous show-girl life.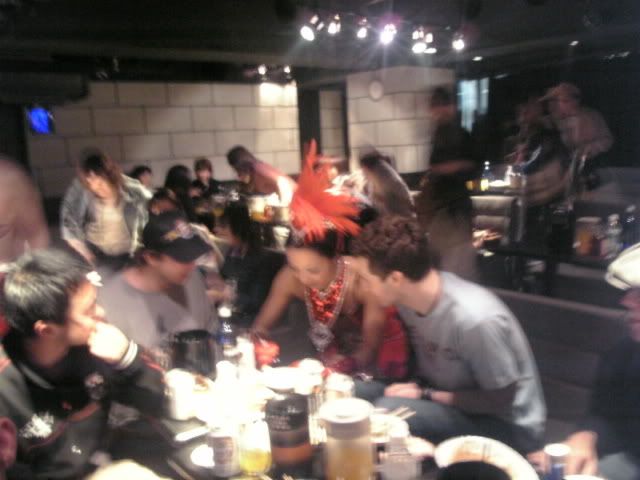 And yes, of course I snagged a disturbing picture with my not-so-secret admirer.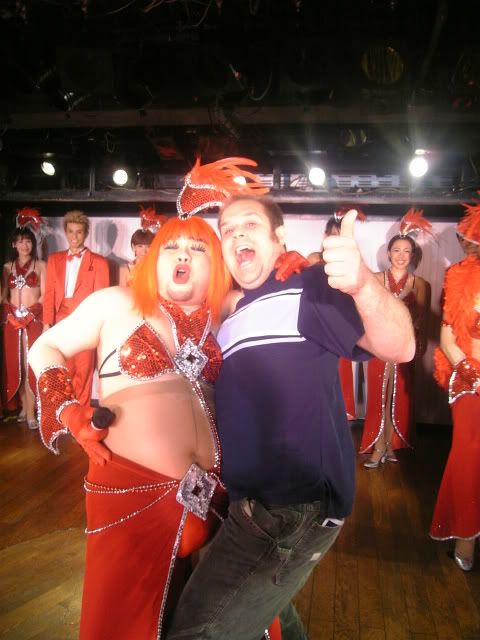 Here it is as a polaroid too. My friend Tom said it best... "Brent, I love that we went up there to take a picture with the hot girl, but you walked up and said 'I want the
fat
guy!'. I love that."
I'm not sure what the kanji characters say, but I'm pretty sure it's either "hubba hubba" or "call me, big boy". His name is a good guess too.