As you may or may not remember from my previous
"Lets Bicycling"
post, I am the proud owner of a sweet Japanese ride. I use this slick, stylish bicycle to cruise around town, impress the ladies and generally draw envious stares from all those nice people in their "cars". Suckers.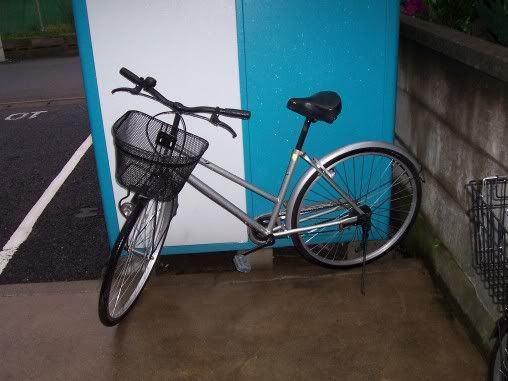 I've been riding my slick basket-bike to work for about a month now, which amazingly takes me about the same amount of time as the train once walking to the station and waiting are factored in. This is a good thing, because I am getting exercise – something I have been told is great for curing I-have-a-fat-ass-itus. Also, if I leave one or two minutes later, it doesn't translate into ten or twelve minutes later on the other end (because I missed the train). The only down side of this particular "you can leave later and not be late" equation is that I am becoming increasingly cocky. In fact, last week, I actually managed to leave for work exactly 11 minutes before I had to punch the clock or earn certain mild disapproval from my superiors. I made it with about 38 seconds to spare.
If you work with me (for example, as my boss), the last paragraph had a few typos in the last sentence. It should have read "
In fact, last week, I actually managed to leave for work exactly 11 minutes earlier than usual, because I want to earn certain wild approval from my superiors. I made it with about 38 minutes to spare."
In any case, my bike has become a source of endless glee over the past few weeks. This glee comes partially because I am feeling pretty good about riding around by the river for 2-3 hours a week, but mainly because I found out that the Japanese call a "Basket Bike" a "Ma Ma Cherry". I suspect it comes from "Mama's Chariot", but I could be entirely wrong. In any case, I think I am actually rather hilarious to the average Japanese person during their morning commute or their evening walk by the river. You see, despite the fact that this thing looks about as cool as Richard Simmons at a Scientology NOW! convention, I can get it moving at a pretty sweet clip. And seeing a large white dude peddling a one speed bike like a madman is funny anywhere, even without a basket full of groceries mounted in front of the handlebars.
I don't know how many kilometers per hour I can do on my one speed of wonderfulness, but I do regularly pass other people on bicycles. Oh shut up. YES… people going the SAME way as me. Anyway, passing people is the best part: I ring my bell at them, and they turn around with a really confused look on their faces. Before they can get over their shock/xenophobia/horror/fascination/arousal/indifference, two hundred and something pounds of large, panting foreigner (and a roomy basket) barrel past.
It's so sweet, especially because at midnight – when I usually ride – the only people out biking are relatively interested in exercise, or potentially a bit drunk and on the way home. In either case, I make for a surprising addition to their night.
While there have been small moments of hilarity here and there, the best one was most certainly a random dance party that I managed to find.
Yep, you read that right. I found a dance party while I was out biking.
So, I was about a thirty minute ride from my house, peddling along by the tama river (多摩川), when I happened to notice some odd flashing lights under a bridge. I pulled into the parking lot, and saw some blankets that seemed to be lit up by…. Black light and flashing spotlights??
I pulled over and stopped the music I was listening to, and found my ears greeted by …. Drum and Bass?
"Strange," thought I. "Strange sounds on a weeknight…"
I biked a little closer and stopped for a few minutes to look over the scene. About twelve Japanese people in dark clothing were twisting and grooving to a fairly fat bass line, under the train bridge.
At this point, I was faced with a titanic social dilemma: What to do next?
On the side of "Don't Bother The Nice Party People", the following arguments surfaced:
1) I don't speak very much Japanese. Things might get confusing.
2) I'm mid-exercise. I should keep working out, not go looking for trouble.
3) Dude, its TUESDAY. You don't need to go raving.
4) SERIOUSLY. It's TUESDAY night. GO HOME.
On the side of "What the hell! Go Dance!" the following points suggested that a "Go Dance" policy would be the correct one for the current administration.
1) Dancing is fun.
2) Yes, even on Tuesday.
3) You'll kick yourself for chickening out later.
4) Baaaawk bawk bawkbawkbawk!!! (making flapping sounds) BAwwwk bawk bawk!!
5) Oh yeah… they're musicians. Your random musician friend David will be mildly disappointed that you skipped the chance for random dance because your stance was not entranced!
Of course, the entire debate was actually rather pointless. You see, I am actually a very morally unique person. Where most people have a moral spectrum, with "good" on one end and "bad" on the other…. I am actually blessed with a triangle – three dimensional morality, if you will.
It looks something like this:
Good
<-------------------------------------->
Bad
..\.............................................../..
...\............................................./...
....\.........................................../....
.....\........................................./.....
......\......................................./......
.......\...................................../.......
........\.................................../........
.........\................................./.........
..........\.............................../..........
This will make a hilarious story later
.
Many of the wacky things that I do that fall into the "dude, that was a terrible idea" category (
being sport humped by a drag queen
,
bungee jumping while within .5kg of the maximum weight allowed by said bungee
, and
most of three days I spent in Amsterdam
spring to mind….) are actually much closer to the "This will make a hilarious story later" part of my moral code.
And clearly, interrupting a healthy bit of exercise to go weekday drum and bass raving with random people I don't know while wearing a bright red t shirt and shorts is clearly, CLEARLY well within the bounds of "this will make a hilarious story later."
So, there you go. Knowing is half the battle.
So I danced with the nice people for about an hour. Their English was about as good as my Farsi, but large foreigners who dance with too much hand-motion are surprisingly welcome at random Japanese rave parties. They cheered, we all took camera phone pictures to immortalize the cultural hilarity, and they even pressed one beer on me. (They tried for more, but I'm not about to join my co-worker in "Drinking Bicycle Accident Land" – where she ended up about two weeks ago, along with most of two bottled of wine, six head staples and a fair amount of mockery from yours truly.)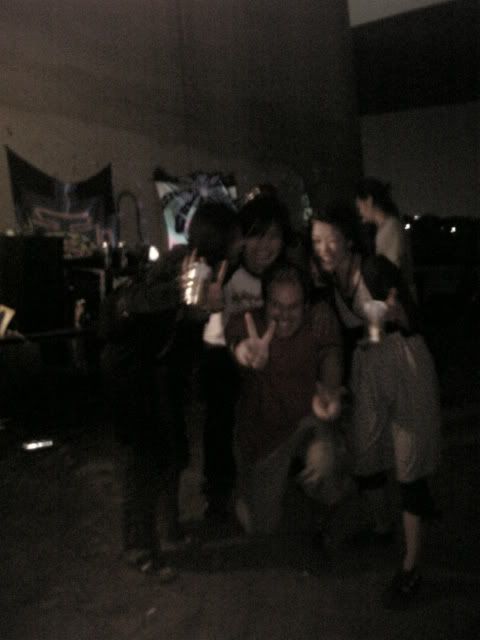 I maintain that the "bunny ears"/peace sign thing is at least 230% funnier than anyone gives it credit for.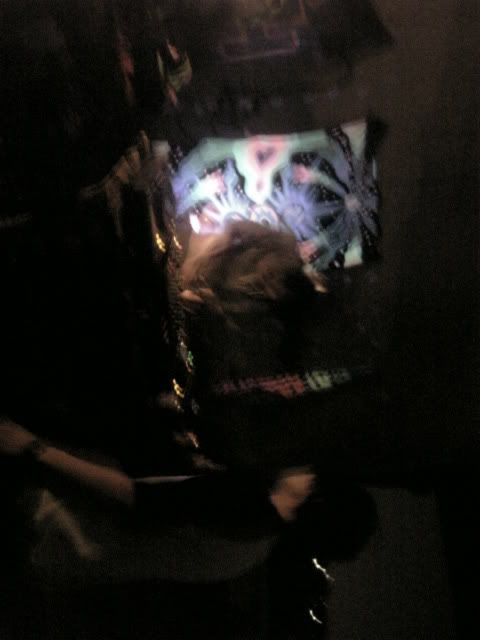 All in all – great times. The passing trains overhead on the bridge were even a wonderful addition to the pounding bass.
Helpful language for today!
Richard Simmons:
a fitness expert known for his candy-striped spandex pants, large puffy hair, womanly manner and poorly titled videos (Eg, "Sweatin' to the Oldies 3"). Although a cheerful man who has helped many, many fat people become much thinner, he is not often considered to be a fashion leader.
Barrel Past:
To "Barrel" is a verb, in this case used to show that I pass people rapidly. Think of how a barrel would look if you tossed it into a fast flowing river or rolled it down a hill. It can't exactly change directions, and it might be a danger to everyone, but it moves bloody fast. Swap out "Barrel" for "Brent" and "bloody fast" for "well, pretty quickly, I guess, all things considered" and you have a pretty accurate idea of what I look like while passing people on the bike path.
Raving:
In your dictionary, it might say "yelling and drooling like a crazy person", as in "John is a raving madman". Here it means "to go to a rave, which is a dance party, and dance like crazy at said party".