For every visitor to Japan, there are a few interesting "must-sees" around the Tokyo Area. These include a few interesting buildings, a great many culturally unique shenanigan-filled adventures and a whole whack of famously beautiful shrines. I've done a fair numer of these "traditional" tourist things, so I always keep my eyes peeled for opportunities to be a cultural menace in a new and interesting way!
Geoff-fu sensei, in fact, is both a great source of heavy metal rocking out* AND a great source of weekend wandering adventures.
About two weeks ago, he dug up something very interesting: a caven about two hours northeast of Tokyo, in an area called Omiya or Oya, or something. All I remember is that the name ended with "谷", which is the same house-like kanji as one of my favourite places - Shibuya: 渋谷. I think that "shibu" means "Let's Party Here!" YA!!!
In unrelated news, I am still very excited about figuring out how to set the Japanese option on my keyboard.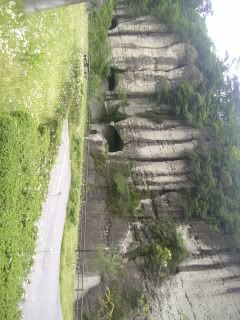 Anyway, the particular cave which we are concerning ourselves emotionally over at the current moment is a really cool place because of a very strange coincidence: Taking a lot of rock out of a mountain can make a very big hole. Since this mountain just HAPPENS to be a great source of building stone for houses, a rather big hole was made.
The "hole" or cave is so large, in fact, that Tokyo Dome can officially fit inside it. And by "officially", I certainly do NOT mean "one of the dudes we were walking with said it, so it totally must be true) And, in all honesty, there would have to be some chopping up to actually
fit
the sports complex down a mine shaft.
But still, its bloody big. 20 metres wide for most of the tunnels, and about 30 metres high. This is bloody big. You can use your imagination, or check out this shot of some nice people walking down the stairs.
Yep, those little tiny people on the left.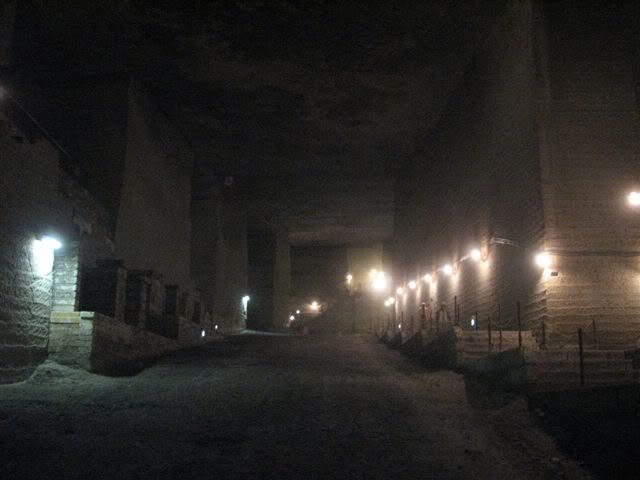 Here are some more pics. This place is huge... each of the side tunnels stretches out at the same height and width as the main shaft.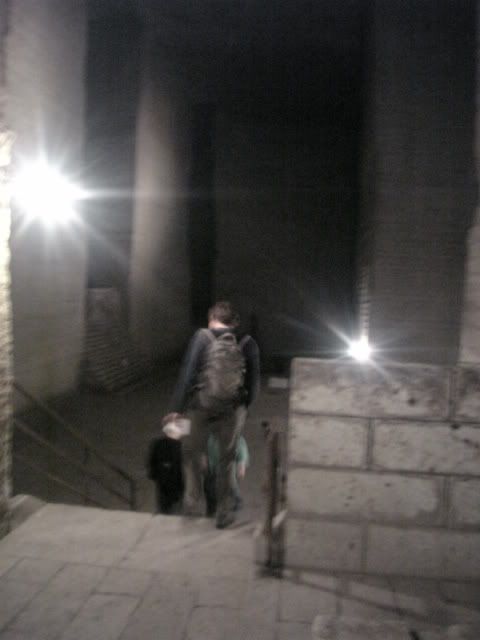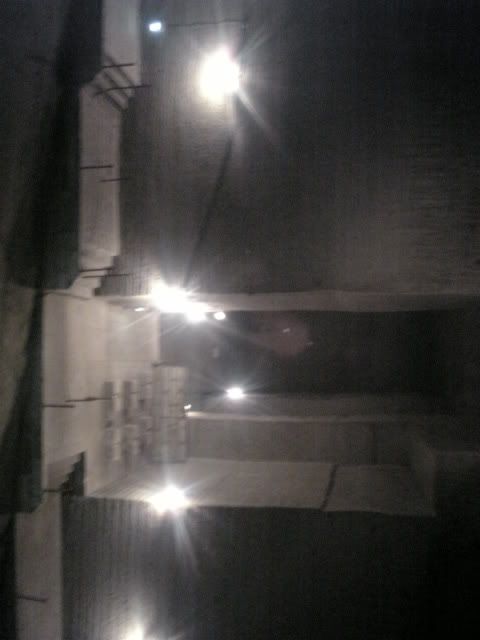 To be honest, being underground in such a huge space is actually rather disconcerting: the scale seems not to fit into a human perspective. So, rather than paying 600 yen to gamely wander around a thrilling source of building materials, you actually feel like you are exploring something very
different.
I really wanted to say "alien civilization" or "long lost city", but I think doing that would be letting my "geek" show... So, I won't mention "alien civilization" or "long lost city" for the cave, because saying "alien civilzation" and "long lost city" would be weird.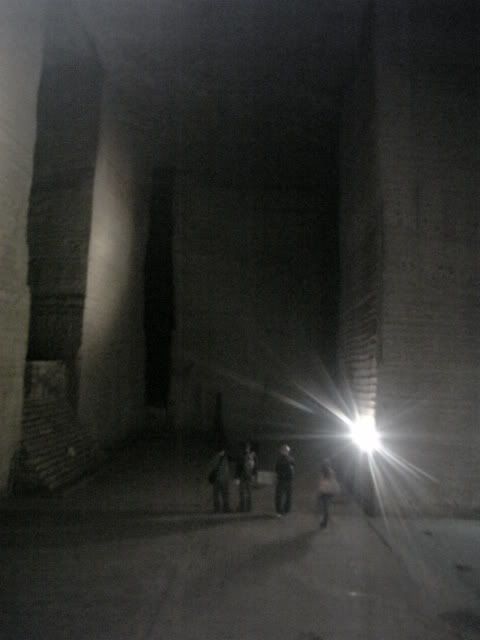 All in all, wandering around the cave was a really surreal. If you have a huge underground cavern that was used to build planes during the Second World War near your house, you should totally go.
Also in the (bksahblwa)ya area is a very large statue. From what I can tell, it seems to be a celebration of Cher.
Like many things here in Japan, it is also being redeveloped to make it more efficient. In this case, part of a large hill that an ancient statue was carved in seems to be standing in the way of adding additional viewing areas for the ancient statue, so the hill is being removed.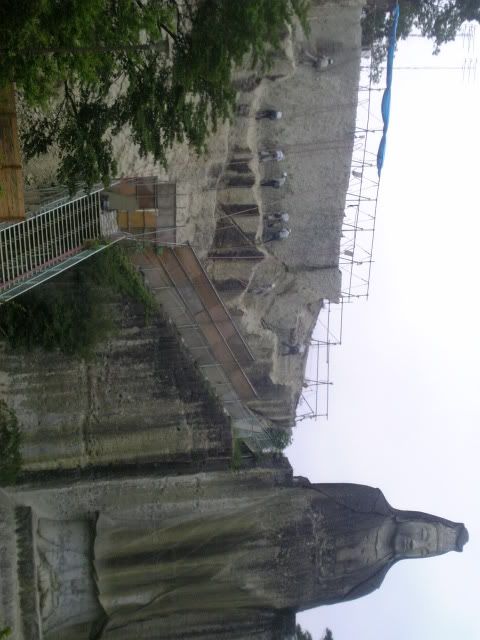 If there's anything that adds to my enjoyment of thousand-year-old art, it's definitely ten people with jackhammers.
Nonetheless, peacefulness was not lost just yet. We still had a beautiful, traditional shrine to culturally offend!
It was indeed beautiful.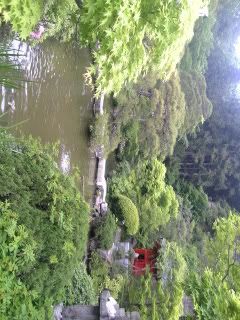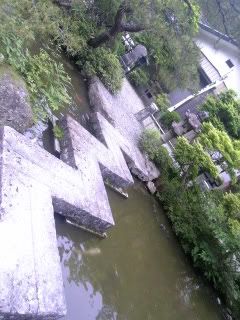 Best randomness: Instead of money, at this shrine, you leave sake! Here, you can see Lucas sensei ponder making a withdrawl...
This shrine is also home to what I could only assume is the Japanese patron saint of pickpockets and chronic masturbators. I had no guide book, and the only sign I could read said something like "んO PIくテひRヨち".  There were a few japanese letters, though, so I didn't really understand.
Anyway, if you ever go, be sure to tell the staff that I christened this depiction
"E. Honda, Mid-Hundred-Hand-Slap: 1500 year old stone relief on 1500 year old stone."
and that they can forward me back royalties dating to Nov 22nd, 743.... or so.
helpful idiom guide (aka - translating Brentnanigans into "English")
To Rock Out/Rocking out:
a verb that helps describe the action/feeling of enjoying a rock music show. Often, approval for the artist is commonly expressed by pumping one's arms in the air while extending only the pinkie and the index finger. Thumbs are optionally extended or not. In internet lexicon, this act is sometimes described with " \m/ " becuase of its similarity to the shape of the universal sign language symbol for "rocking out". Incidentally, you should check back later, as we'll be solving the following equation: X = Geoff Sensei + Guns 'N Roses - Pre-recorded vocals.
keep your eyes peeled for
- watch out for
More language help is available by request, threat or naughty innuendo.