... This post has gone on long enough that I have since RETURNED to the land of 24 hour party since beginning this post. We can add the latest shenanigans in point form on a future post.
... So... where were we...?
Ah... pottery pics!
"Goshiko" was kind enough to send some sweet pics of the pott-ing. Here they are, in all of their majesty...
Mine is the grey cup-shaped blob.
Here is a more central version, where my art gets to go all Barbara Streisand and totally grab the entire spotlight. Thanks for showing up, supporting pottery!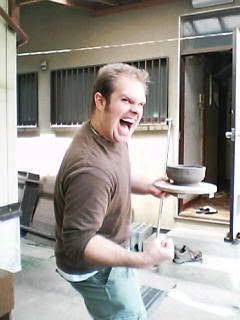 Fortunately, someone spiked my green tea with "Rage-o-hol". That... or maybe I am expressing my primal creative instincts in an orgy of artistic fist-pumping.
Yeah, pretty sweet stuff.